CureDuchenne Partners with MD Group to Offer Support, Care to Patients in Nepal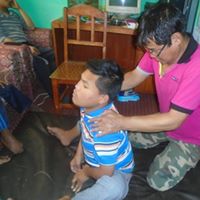 CureDuchenne has partnered with the Muscular Dystrophy Organization Nepal (MDON) to help deliver better care to Duchenne muscular dystrophy (DMD)  patients in that country, and education and support for their families.
According to CureDuchenne, DMD affects over 300,000 children globally. An article, "Lived Experience of Mothers with Duchenne Muscular Dystrophy Children, Kathmandu," published in the Journal of Institute of Medicine, states that 800 cases of DMD were registered in Nepal as of 2015.
Nepal, whose per capita GDP is equivalent to 5 percent of the world average, lacks important resources and is often touched by natural disasters, including a 2015 earthquake that killed some 9,000 people.
The initiative includes financial and practical support, including a care facility where up to five patients can reside at a time and 10 other can receive treatment for advanced symptoms. Services provided by the center include therapy, medicine, food, transportation, caregiving services, equipment and education material.
According to a CureDuchenne release, the group "firmly believes in working together to help any child" with DMD — a progressive disorder that knows "no cultural, economic, or social boundaries" — find the help and support they need.
As part of this effort, CureDuchenne provided support for:
Wheelchairs that were distributed to patients living at the center
Group trips, so boys and their families could meet others in the DMD community
A nebulizer with six months' of medication for patients with respiratory issues
Medical checkups, including lab work, for all patients living at the center;
Art and school supplies
A toilet
Center maintenance and upkeep, including support for rent, electricity, staff wages, and food
Ongoing support for physical therapy and home-based therapy services for DMD patients
"CureDuchenne's support has helped me run a central home for those with muscular dystrophy as well as provide home based services to patients," said Nirmal Khadka, founder of MDON. "Thanks to CureDuchenne's support these boys' care has improved dramatically. They are now getting regular physiotherapy services. The wheelchairs have made a big impact on patients, their parents and their daily life. The boys can now interact with other patients, make friends and learn life skills. We are grateful to you for helping our boys in Nepal."
Anyone wishing to make a donation in support of these efforts may do so at www.CureDuchenne.org/Nepal.